StudentLogic – Custom PAYNOW option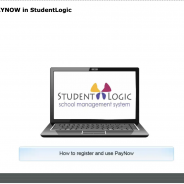 PAYNOW SET UP IN STUDENTLOGIC
We are now happy to introduce a new feature available now in the system – custom PAYNOW with exact amount of invoice amount auto-coded into the QR code for easier and more convenient way to pay for your customers.
This post is here to:
1. Explain what is PAYNOW the benefits of PAYNOW payment option.
2. Explain how to easily set up PAYNOW option in the system so you can fully utilise this feature today.
What is PAYNOW and benefits of PAYNOW
PAYNOW is not a new feature available on the market for collecting payments from your customers. StudentLogic has had a basic option for PAYNOW available for a while now. The main advantage added to this option now is the ability of auto generating QR code into your invoice for PAYNOW payment option for your customers loaded not just with your general banking information but also with the exact amount of the invoice that customers need to pay to further avoid human mistake and increase accuracy of this type of payment.
What is PayNow Corporate
(Source: The Association of Banks, Singapore)
PayNow is available to corporates, businesses, Singapore Government agencies, associations and societies – collectively "Entities" – through PayNow Corporate of participating banks.
PayNow Corporate enables Entities to pay and receive Singapore Dollar funds instantaneously by linking their Unique Entity Number (UEN) issued in Singapore to their Singapore bank account. They do not need to know the bank and account number of other entities when transferring funds.
To receive funds, entities need to register for the service online at their bank's banking platform. They can also contact their bank for assistance.
With PayNow Corporate, retail customers of participating banks can now transfer funds to entities and vice versa.
PayNow Corporate is provided by the nine PayNow participating banks except for Bank of China, and Industrial and Commercial Bank of China Limited. They will be offering PayNow Corporate at a later phase.
Basically, what it means is that as a Singapore company, you can register for PAYNOW option with your bank and StudentLogic system is ready to auto populate QR code for your customers on your Invoices so they can pay you via PAYNOW (transfer the funds to your bank). 
To activate this option in the StudentLogic system, please watch the video below. Contact us, if you have any troubles setting it up at support@nextlogic.com.sg
MAIN BENEFIT:
Very easy way of payment for your customers without the need of paying with the credit card or paying high credit card processing fees.
IMPORTANT NOTE:
This is considered a bank transfer from your customer to your bank account so the auto offset of the invoice does not happen in StudentLogic. You need to manually offset the invoice in the system once you receive payment in your bank account (based on recorded POS no. that would be listed in your online bank statement).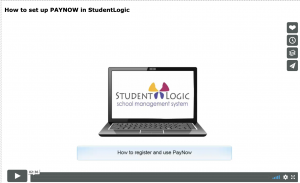 Happy to help.
If you have any questions, please contact us at support@nextlogic.com.sg.
Thank you,
NextLogic Team