StudentLogic – Withdrawal of students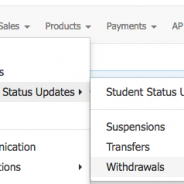 In this education blog we will focus on the topic of students' withdrawal from the system. Managing the students's overall status in the system is very important as it influences other areas and functionality.
This blog is here to:
1. Summarize the importance of withdrawing students in the system real time.
2. Demonstrate how to withdraw students correctly.
LET'S GET STARTED
Why is it important to withdraw students in the system ?
Withdrawal of student in the system should generally happen when it's either clear that student will not continue their classes into next term or next package because they explicitly informed you about it and want to take out their deposit (if there is a deposit) or when student went quiet and did not renew their classes last term or last few terms even if they did not inform you that they want to withdraw.
The main reasons for this to happen are:
To know real up to date information about how many active students you have.
Withdrawn students do not appear in Ending Packages Report, which makes it a lot easier to perform mass renewal correctly.
To monitor reasons for withdrawal as valuable source of information about why students are not renewing their packages to be able to do something about it (if possible of course).
There is no reason to keep students on Active status if they did not renew their package as you can still choose to keep their membership number as it is (do not expire it). As soon as they purchase any new package (even few months later) they will automatically be Active again in the system.
The ideal way to manage the process of withdrawal in the system for scenario where student does not inform you about official withdrawal would be:
1. Mass renew (or individually renew all students ) to the new term (new package).
2. Receive payments and registrations before the term starts or at the beginning of the term as you normally do.
3. Generate Report "Students by Term" to check who has renewed and paid for the new term (new package) and identify the list of students who did not.


All students who do not have any POS number in the last term column or few last columns are most probably not renewing their packages. It's best however to go into Student's CRM and double check what is happening and whether student should be considered for withdrawal.
If there is no term however, all POS numbers would be accumulate in one column only (first one without any term) and you need to look at POS numbers to identify which students are not renewing.
4. Follow up via email/phone with those students who did not renew to find out the reasons why and record them in the system for future reference and analysis or potential immediate action.
5. Withdraw those students who are 100% not coming back to make sure next term renewal will be easier.
The optional way to identify students who might already need to be withdrawn in the system would be at the point of analysing Ending Packages Report before you perform mass renewal. Students who do not have complete packages bought or who have not attended/booked any lessons from their last package and other exceptional cases should raise a red flag and you might want to follow up with them and update their status to withdrawn if that is correct for their case.

How to correctly withdraw student from the system
Once you identify and confirm that student should be withdrawn from the system, go to student's attendance page to perform withdrawal (change status of student to withdrawn).

Student can only be withdrawn via Withdrawal widget as shown above.
1. Click "Withdraw Student" to initiate withdrawal and the page summarising student's situation will appear.


2. Make decisions about all sections listed on the withdrawal screen as shown above. They are very self-explanatory and with detailed descriptions to make sure it's easy to navigate through them. If you still face any issue and cannot decide you can email us at support@nextlogic.com.sg and ask for advice how to correctly withdraw your student.
If there is no Deposit, do not worry, just keep the default option selected, it won't influence the process in any way.
In the Active Packages section, just select option that you want system to perform with regards to remaining available classes for student. The screen will change a little bit with different options selected.
Expire Membership – if you do not tick this option, the membership will remain in the system, if you tick this option the membership number will be expired.
If you are not issuing cheque, you can leave the field empty.
Please, fill in Reason for Withdrawal, it's a required field.
To submit click on "Withdraw Student" button at the bottom of the page.
3. You will be redirected to Withdrawal Confirmation page where all your choices from prevoius page are summarised so you can double check if everything is correct as once performed, it cannot be un-done (only re-enroll and sell new package).


You can either abandon the withdrawal here and start again or click "Withdraw Student" if everything seems correct and you want to complete the process of withdrawal.
4. Once completed, you will get a success message to inform you about successful withdrawal. If anything goes wrong, you will get an error message. Read the error message and do what it asks you to do or try the whole process again.


5. The status of student is now changed to "W" as withdrawn.

6. To view the list of all withdrawals with reasons listed go to CRM / Students Status Updates / Withdrawals.