Mass sms portal in StudentLogic system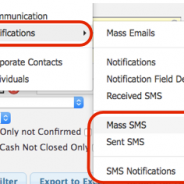 Did you know that a new study has found out that on average, a person clicks or swipes his mobile phone  3,000 times a day ? Imagine the power of sms marketing that represents.
So, there is a complete mass sms portal with both ways sms communication available to you in StudentLogic. Here, we would like to outline its key benefits and use of this functionality in the day to day operations.
Let's start from basics or MUST DO if you will. We are talking about most basic and most commonly used alerts and reminders that mass sms portal is usually utilized for and it's a must for efficient day to day operation of your centre as having this process fully automated will save you lots of un-necessary stress and headaches of manual tracking and reminding, which can also get very messy.
The main beauty of having mass sms portal totally integrated into your back-end operational system such as StudentLogic is the fact that system already knows all the information about students, parents, classes and even attendance (well as long as data in the system are correct of course).
You don't need to first search for those data, then extract them to Excel, then load them into separate mass sms portal and then somehow track the responses and load them back into StudentLogic. It all happens within StudentLogic without much effort. The only effort is at the beginning to set it up correctly and of course make some simple, easy to follow business rules that system can apply and which can easily be applied to all your cases. 
Most commonly used are payment reminders, if those are required in your business. StudentLogic tracks ageing of invoices generated in the system. You can set up a simple system of payment reminders that can be generated for example 30 days after invoice date or 60 days or both, etc. These reminders extract the information automatically from ageing report or your sales module and are automatically sent out to relevant contacts/usually parents.
Example of payment reminder.
From the menu -> CRM -> Notifications -> SMS Notifications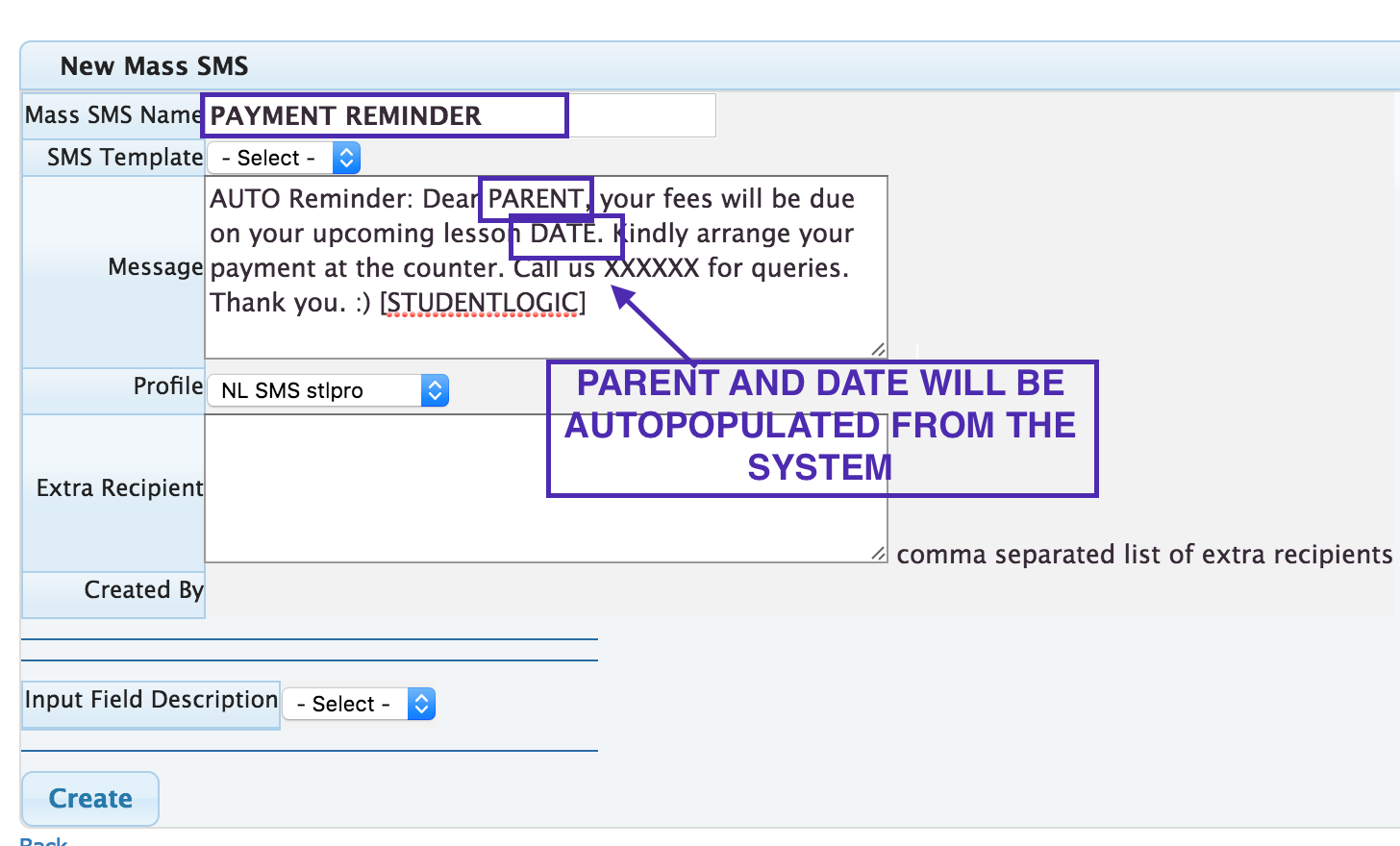 Slightly adjusted idea of payment reminders are renewal sms alerts or info that new invoice has been generated in the system with link to paypal for example to settle the outstanding balance for new term or new set of classes online or just link to pdf invoice so parent will quickly and easily know that renewal has happened and invoice is due for payment.
Example of renewal sms alert.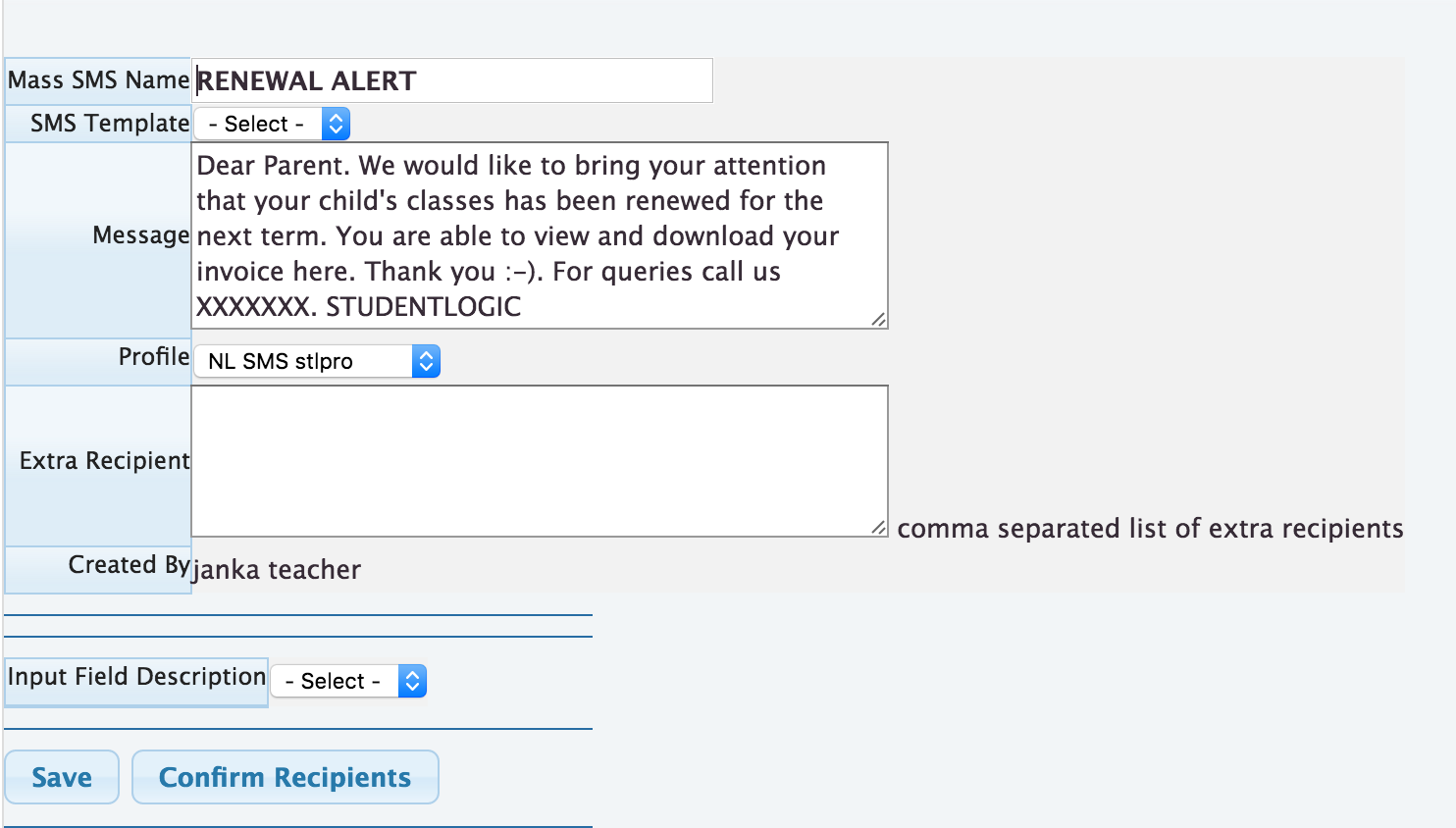 The must have category contains some other examples like:
– canceled or re-scheduled classes – if it happens that class needs to be suddenly re-scheduled or canceled for whatever reason, the easiest way is to create new mass sms and blast it out immediately to the correct class (YES, you can choose the recipients down to specific class on specific date and time or group of classes by subject or by day)
– invitations to your events, opened days or roadshows, etc. – your clients need to feel special, let them know that they know about everything first cause they are your VIP
– information about your promotions and offers – who else if not your existing clients deserve to know first about your latest offers and promotions, they already love you, they already know you, they have the highest potential to buy more from you
– thank you smses for online registration or new member registration – the best way to show your new clients that you are very well organized and that you appreciate their business, especially the one that matters the most  – set up thank you smses to make sure they know you know about them and you are grateful for their business, auto sms can be auto generated from the system upon every new membership sale or every new sale if you wish or at least once they register online for your trial class, and do not forget to attach some link to some happy client testimonial in your thank you sms so you have multiple ways of interaction with your new, potential or existing clients
EXAMPLE: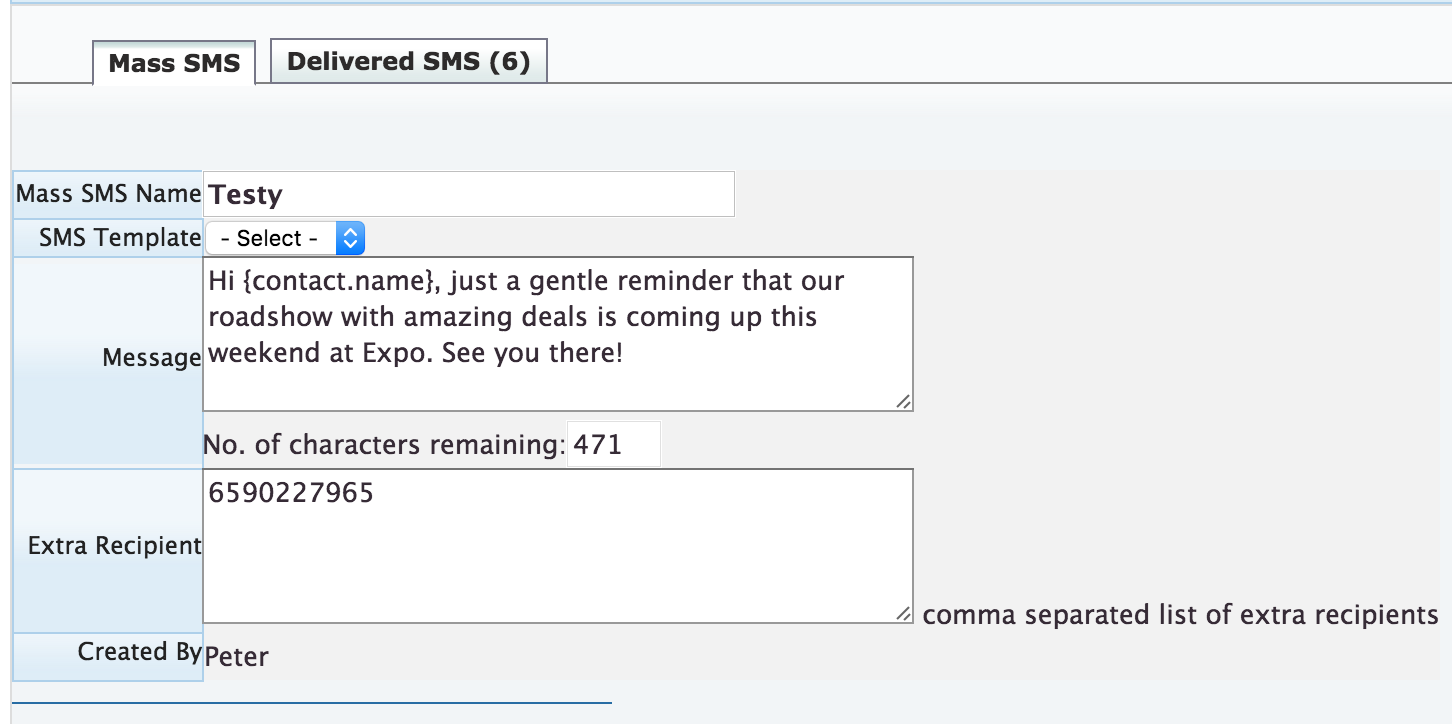 Filter criteria you can choose from to get parents or customers you need (correct sms recipients) for mass smses that you trigger. Automated alerts and reminders are auto filtered by the system and sent out by the system based on the logic defined and pre-set by us in the back-end.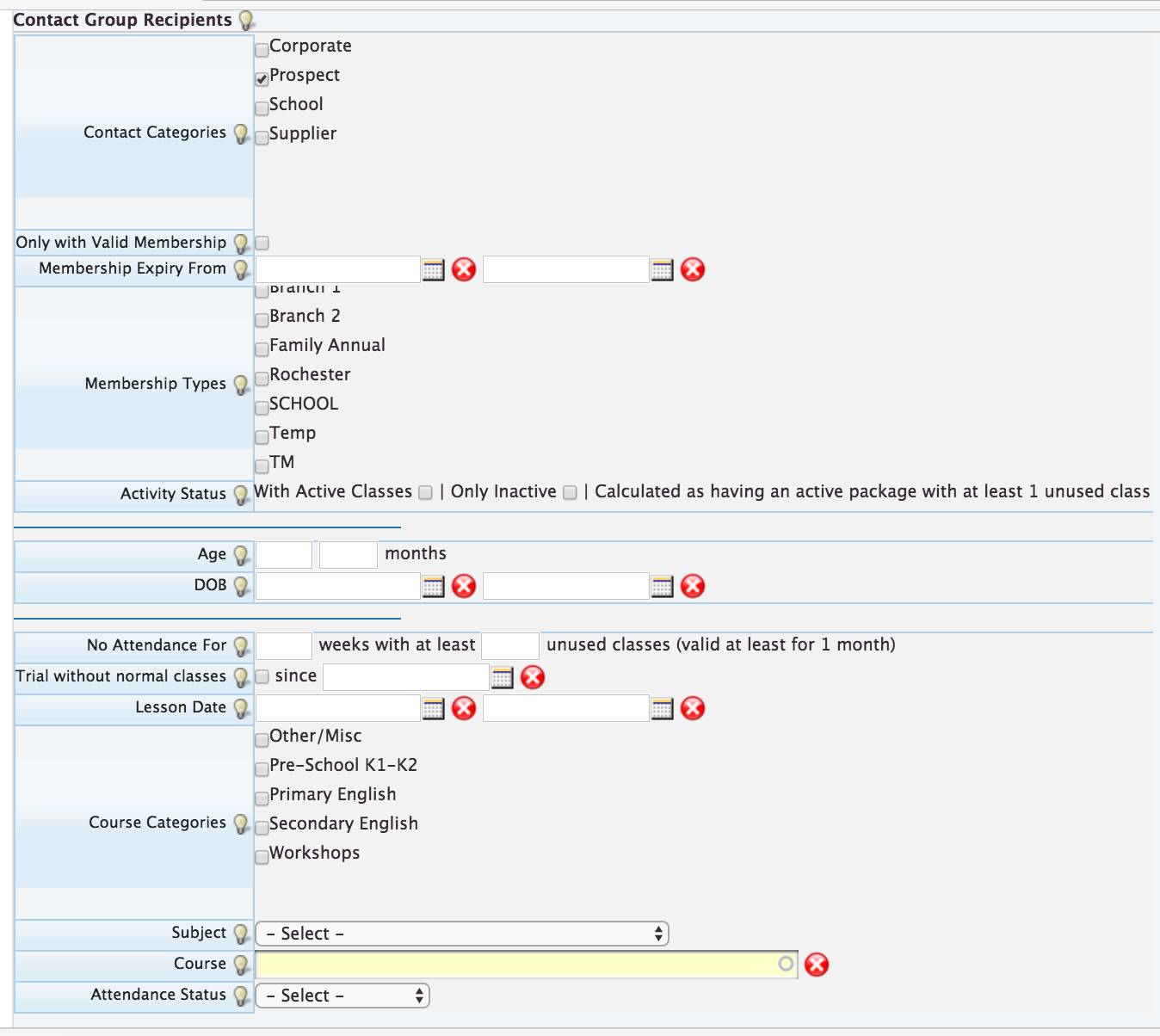 Here are few examples of nice to have alerts, reminders and mass smses:
– too many missed classes reminders – simply define what number is too many missed classes (or classes on attendence status M in the system) and set an automated alert to parents to inform them that they hit that number and what the consequences might be
– trial reminders – if trials are not paid online or upfront before the actual trial date the level of commitment from parent's side is not always very high and sometimes it's just that they forget about the booking as they are busy with their lives, simple sms reminder day before trial class can be very useful and let's face it, they are your new business so very very important as you can't impress them if they do not come, so whether it's a sms with payment link to settle their trial upfront online or just gentle trial reminder, it increases your chances oh gaining potentially very profitable new client significantly
– sms reminder if no membership or package is bought after attended trial within certain number of days – the best way to stimulate sales is to make sure that no potential client goes missing in the whole process of trials and trying to close trialists – set up an auto sms with some special offer or special price that would help you get in touch again with those who attended your trial but did not sign up for your membership or package, you can be so creative about it, but KEEP IT SIMPLE AND EASY TO IMPLEMENT and TRACK
And here are just some few extra ideas just totally awesome to have if you really want to push yourself and make a lasting impact on your prospects or existing clients. Have fun in the process, of course:
– weekly/monthly sms edu link or motivational quote or your happy client quote to keep in touch with your prospects or existig clients
– weekly/monhtly sms link to your blog or e-newslatter or facebook page where you can run competitions/polls/quizzes/lotteries….anything to either learn more about what your clients think/feel about your classes/teachers or what they are missing or what is excellent about you or to collect written or video testimonials for your online presence – you might want to discuss this social presence and online strategy with your marketing consultans or experts, just know that sms from StudentLogic can be an easy way to send that important info with link to very specific target audience from your system
– special promo quotes for quick sales/new class trials, etc.
– sms feedbdack on the class/student from your teacher – your teacher can key it into the system and system can easily blast it out to the parent automatically or with few hours delay
– automated sms to parent that their child did not came to class yet – there are many concerned parents who would love to know if their children made it for their tuition on time for example, system can auto pick up all students whose attendance have not been updated within 15 minutes from the class beginning and auto message that info to parents so they can act upon it
To be able to use this functionality you need to purchase sms credits from us. There are various packages available. Please, speak to us if you are interested.
If you have any questions, please contact us at support@nextlogic.com.sg.
Like us on Facebook