StudentLogic – How to correctly forfeit deposit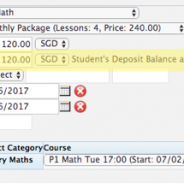 This week we will explain How to correctly offset deposit that is forfeited to make sure everyone is doing it the right way. 
There are actually few ways it can be done, but if you want your reports to show forfeited deposit correctly as your income, then please follow the steps provided in this email.
1) Forfeited Deposit is your INCOME and thus first step is to create an invoice to record this income correctly. 
Go to Sales module / Invoices and create new Invoice as shown below.
Invoice is created for parent/student whose deposit you want to forfeit and invoice item is product "Forfeit Deposit". 
If you do not have product "Forfeit Deposit" you need to first create it correctly in your Products database as shown below.
Please, confirm Invoice you just have created so you can offset it with credit note in the next step.
2) To forfeit the deposit correctly, usually you first use the Withdrawal widget to withdraw the student and there will be a Credit note created for returning the deposit to the student as shown below.
3) Now that you have both Invoice and Credit note correctly created, you can offset one with the other to finish the transaction and balance it off. Go to Credit Note you just have created and offset it against the Invoice you have created in the first step.
This is the final outcome you want to get.
And just to double check that the whole transaction was successfully offset, you can go to Sales History tab for this student to make sure there is nothing outstanding and Deposit was successfully forfeited.
The forfeited deposit will appear in your Report for Accounts under column "Other Sale" as we mentioned before, it's your income now.
If you have any questions, please contact us at support@nextlogic.com.sg.
Thank you,
NextLogic Team
NextLogic Pte Ltd 
Like us on Facebook 


NextLogic Pte. Ltd.
Priority Driven Solutions