StudentLogic – Parents' App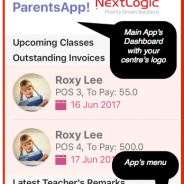 We would like to introduce you our latest extension to StudentLogic school management system 

Parents' App version 1.0
LET'S GET STARTED
Why Parents' App
Parents' App is a free of charge extension to StudentLogic school management system for all our subscribers. There is no extra cost for you to use it, no extra user licences are required. It's for you to make your clients even more happy and satisfied with your level of service and professionalism.
Why would you be happy to use Parent's App:
It's free
No extra cost for you as a business owner but many benefits to reap.
It's your quality tool
Once parents are allowed to view information via app everyone in the learning centre is highly motivated to keep meticulously correct and up to date information in the system.
It saves you lots of resources if used well
Parents can pay online via app. Less jams at the reception.
Parents do not need to call as often to ask questions if they can find answers via app.
Use the new found free time to enhance your business and your customer service where it matters the most for your business.
Why would your parents/clients be happy to use it:
Better Informed
Most important information about their child(ren) from the learning centre at their fingertips via app. Easy and convenient.
Easier Re-scheduling
Parents can submit requests to reschedule via app with the reasons and check the status once processed by your staff.
Track Attendance
Parents can monitor the attendance records of their child(ren) in the learning centre easily via app.
Instant Payments
Parents can view all outstanding and paid invoices and pay right away via app using their credit card or Paypal account from the comfort of their home or from anywhere.
Teacher's Remarks
Parents can view group and/or individual lesson's remark about their child and their work in the learning centre. They can monitor their progress via remarks and pictures uploaded by teachers.
Parents' App Features in the version 1.8
Parents' App is available for parents' download from Apple Store and Google Play only. Parents' Login into the app is possible via mobile, Facebook or Google only.
1. Dashboard / Home
Upon initial login and subsequently upon any opening of the app parents will come to the main dashboard where they can easily see the most recent information from the centre in the following areas: Upcoming classes (if any), Outstanding Invoices (if any), Latest Teacher's Remarks (if any) and the main menu buttons to navigate through the app are at the bottom.
The dashboard's logo displayed is your centre's logo taken from your system (same as the one that is right now printed on your receipts for example).

2. Attendance
Attendance section of the app will list all upcoming or active classes for each student/child (if there are any). There is also option for you to define how many months of history/archive do you want to display to your parents. Archive will display all packages that are expired or completed as of today.
Active Classes 
Archived Packages 
Parent can request reschedule via app
If class is still active and it's within required no. of hours before the class (usually more than 48 hours before the class for example) parent can submit request to re-schedule the class with reason why and supportive docs (attach MC for example) and proposed dates for make up class. This step does not mean that parent is directly re-scheduling the class. Request to re-schedule is received into the system's back-end and staff needs to verify it and re-schedule in the system. Parent can at any time check updated status of the reschedule request via app.
3. Invoices 
Invoices section of the app will real time display all active or outstanding invoices that are confirmed or not confirmed in the system's back-end. Parents/clients will be able to pay online if you define your Paypal account correctly in the system's back-end. System will also list archived invoices that were already paid for clients' reference. The list will follow history information defined in the previous step (If you want parents to only see the last 6 months of packages/classes bought for example then only respective invoices for the last 6 months will be displayed in this section.)
4. Teacher Remarks
Teacher is able via teacher's app to upload notes/comments about the whole class or individual students along with images taken during class and upload under individual students. Those can then instantly be shown to parents via Parents App.
5. Personal Details
Parents are also able to quickly and easily update their contact information, information about their children and upload photos of their children. Main profile picture of the parent is automatically taken from their login information as they need to login via Google or Facebook in this version 1.0.
Parents App version 1.0 needs to be used as it is, it cannot be customized. Thank you for your understanding.
NextLogic Pte Ltd
Like us on Facebook 


NextLogic Pte. Ltd.
Priority Driven Solutions