StudentLogic – Student's Status Management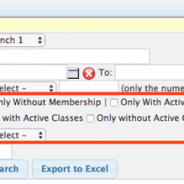 With this blog, we are hoping to shed some light on student's statuses that are currently available in the system.

In this article, we will explain the difference between student status, membership status and class status to make sure you are reading and using the information in the system correctly.

LET'S GET STARTED
Student Status
Student Status as displayed next to student's name in CRM (Active/Withdrawn/Suspended) or in Students summary page is an overall general student's status that is automatically updated to Active with first purchase of class in the system. It does not matter whether the sale is a trial class or a package, as long as it's a class sale, the status will automatically change to "Active".
From this point onwards, it's up to you to manage this status by using Student Status widgets available to correctly indicate whether the student is still active, suspended or withdrawn. System will not automatically update this status unless you use correct widget to update this overall status.

To put it into perspective, it basically means that student can be on status Active and not have any active membership (if you initially sold a trial class but did not sell any membership) or not have any active classes/packages (if trial was attended but no further sale was done and thus there is no active class/package under this student right now).
The idea is to actively follow up with trials to make sure that they should stay on the "Active" list or withdraw them in case they have no potential.
To be able to correctly identify students you are looking for in Students summary page make sure you use correct filtering criteria.

The only auto update of student status happens when withdrawn student purchases a new package/classes. System will automatically update the status to Active again.
Membership Status
This status is very straightforward. Student can either not have any membership (never purchased or expired) or student can have Active membership.
This status is useful for filtering when sending mass email/sms out for example.
Activity Status
Activity Status refers to student's activity in the system in terms of having active classes/packages at the point of search (as of date when search is performed). This can change from day to day, that's why it's usually very hard to come up with one final number of active students per term for example as that number might be different every day of the term. That is a very extreme example but as long as new students are allowed to join in and students are dropping out, those numbers will change.
This status can thus be used to check real time (as of TODAY) what is the number of active students or it can be used as a filtering criteria when sending mass email or sms out for example.