StudentLogic – Teachers' / Attendance App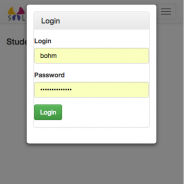 This week, we would like to remind you of our teacher's / attendance app that is already available to you and the importance of regularly taking attendance for all your classes and students.
This email will talk about:
1. Why it is important to take attendance daily / regularly?
2. How to take attendance via app. (There are more features available in the app but we will focus on attendance only in this email.)
LET'S GET STARTED
Why you should take attendance daily…
Taking attendance daily or at least regularly for all your classes and students is very important in the system to make sure that any loopholes are prevented.
The cycle with one student is only safely complete if student is not just enrolled into the class and invoice is paid but if attendance is taken and closed. This logic is put in place to make sure that no creative loopholes happen where either customers data or money is being mis-managed in the centre.
The second reason why now it's even more important to practice taking and closing attendance is the fact that we will soon be releasing Parents' App. The beauty of parents app is the fact that now also parents will be able to instantly see all relevant information about their students in your centre including attendance records. All they need is to log into parents app and all main information is available there for them. This means that your records in the system must be meticulous and up to date to make sure that parents access real time correct information.
Parents' App version 1.0 will also allow parents to:
Update personal contact information
Upload picture of student
View upcoming classes and request to re-schedule with reason for your re-scheduling
View attendance summary
View all invoices created in the system with option to pay outstanding ones online via Paypal
Small preview of main dashboard page of Parents' App.

Please, look out for series of short educational blogs about Parents' App from next week onward for more details about our latest app that will be available to all our subscribers at no extra cost from November 2017. 
Please, prepare your back-end system on your side to make sure that you are ready for live launch of Parent's App to your parents (customers). 
Taking attendance with app
1. To install the app on your device (iOS and Android only), key in your app's URL link into the web browser on your device. (If you are not sure about the Attendance App URL, please email us at support@nextlogic.com.sg)
Once the app is loaded on your device in the web browser, create a shortcut and place is on your Home Screen so you can access it easily.
2. User needs to login into the app. Username and password is the same as to the back-end of the system.
3. To take attendance quickly and easily click on Attendance tab in the menu.
4. By default the attendance screen for today only would appear. You can tick "Only Mine" if you want to filter out only classes assigned to you in the back-end. Use arrows next to date field to move to different days, if needed.
5. Click on the class for which you want to take attendance. The list of students who are supposed to attend this class would be listed with their respective attendance status.

6. Tick on all students you want to update to "Attended" for example and select status "Set to Attended" from the "Set Status" in the menu above the list of students. You do not need to save and update attendance one by one.
7. New status is automatically saved. If that's all you want to do, log out of the app to make sure that your user license is not preventing other users from using the system.
NextLogic Pte Ltd
Like us on Facebook 


NextLogic Pte. Ltd.
Priority Driven Solutions